Dear Reader,
Hi, James Altucher here.
And if you've been kicking yourself for not investing in cryptocurrency…
Watching Bitcoin go from $61 dollars…
To $1,000 dollars…
To over $60,000…
Then I am urging you to read this message in full.
Because the new crypto bull run is shaping up to be the biggest opportunity of our lifetime…
But CNBC reports that only 10% of Americans own any cryptocurrency.
Yet a search on Google Trends shows that, as of early this year, more Americans are interested in crypto than ever before…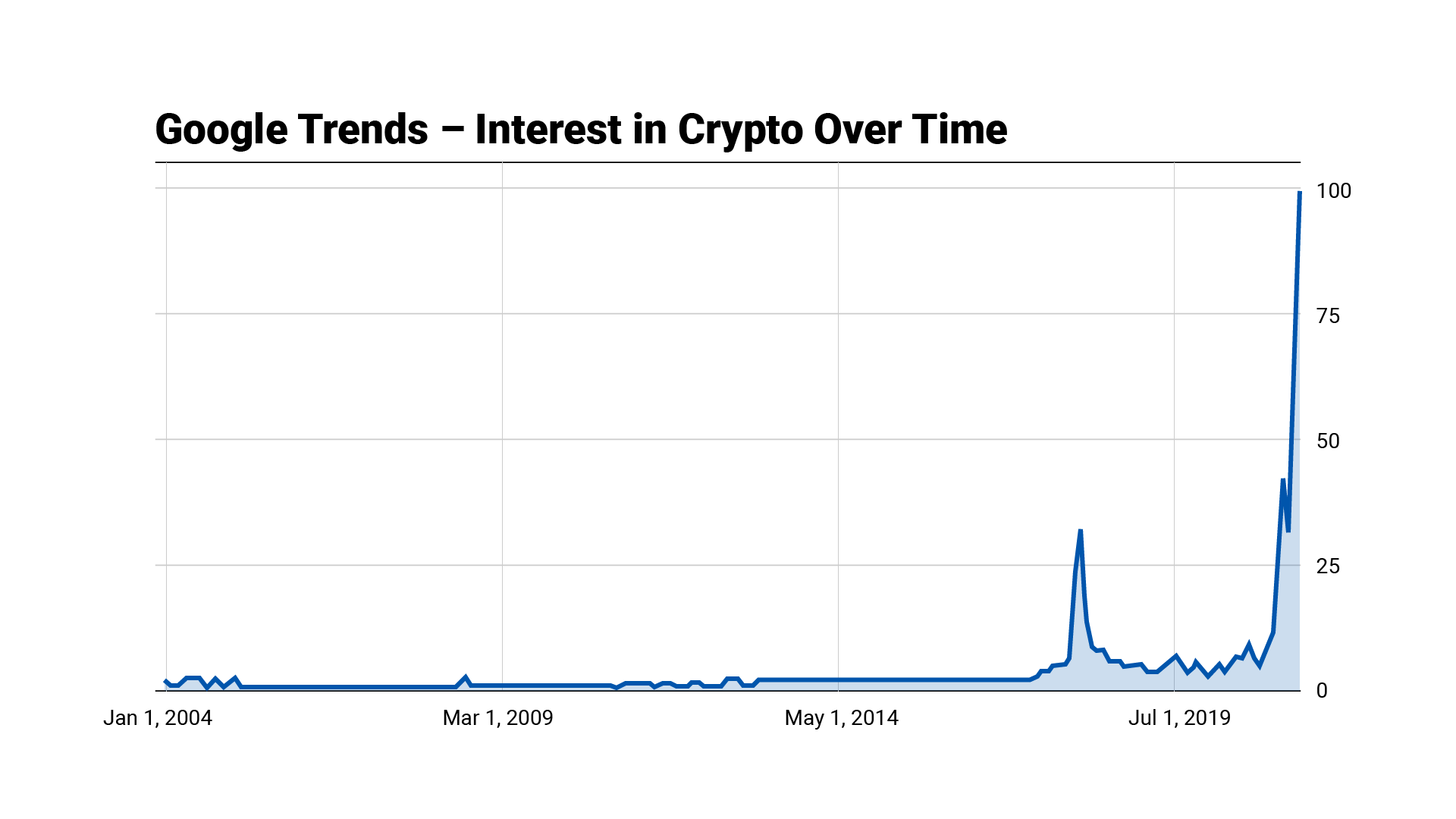 Even the boom back in 2017 was just a blip on the radar compared to what's happening now.
Point being, there's a lot of money to be made right now — but most Americans are missing out.
That's why I'm sending you this urgent message today…
It's important you do NOT buy any cryptocurrency until you read this entire message…
Because the crypto landscape is in a MUCH different spot than it was a couple of years ago…
Knowing how to spot opportunity vs potential disaster is harder than ever.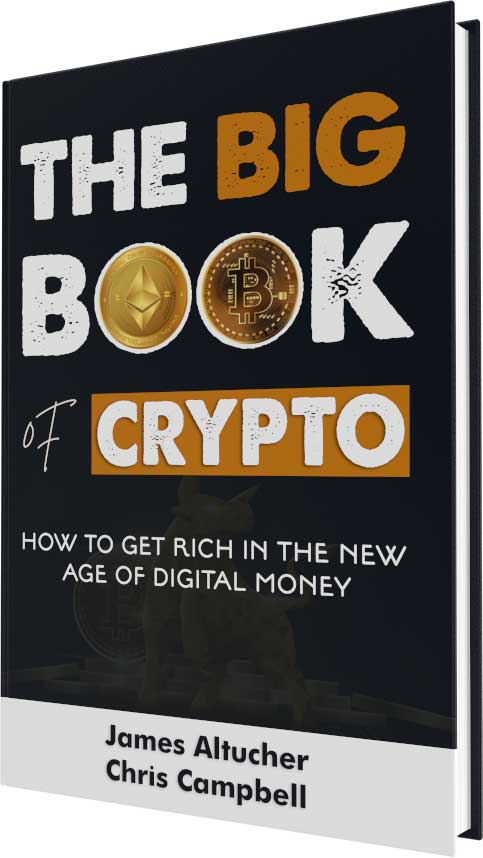 And that's why I want to send you my new book, The Big Book of Crypto, today!
It will lay out EVERYTHING you need to know about the current market.
And show you the little-known strategies you can use to your advantage… starting right away.
For example, here's a few things you'll find inside…
Why $100,000 Ethereum is almost all but guaranteed. Ethereum has become one of the most popular cryptos in the world, and for good reason. But very few people know just how bright of a future it has… And why banks have accepted that it's going to revolutionize their industry in a permanent way. Some of the biggest crypto whales and I predict it could hit $100,000 by 2023. See why on page 22.
Bitcoin's Mysterious 57-Year-Old Creator — REVEALED? Plenty of people have speculated about who invented Bitcoin… but almost all of them are wrong. As an insider, I'm privy to information most people don't know. On page 85, I'll show you the man who I believe is Satoshi Nakamoto. I'll even share this person's secret blog with you, which he regularly posts on.
A tiny 12 oz device that has netted some folks up to $2,000 in passive crypto income… Every single month! It takes about 5 minutes to set up, and it's so easy to use that a 10-year-old has done it. All you need is internet and a power source. (And no, this is NOT some complicated Bitcoin mining rig, but the device itself will cost a few hundred dollars). On page 116 of my book, I'll show you exactly how to get one of these devices and why it could change your life for good!
You see, I know that the main reason most people are sitting out is because they don't know how to get started.
And I'm on a mission to fix that. Because once you know how, trading these small digital currencies is easy!
But You Can't Just Buy Any Random Token
You Hear From Your Friends
Or See On YouTube…
Sure, you can get lucky.
Everyone does once in a while.
And if you do get lucky, you have the chance at eye-popping gains…
Vice reports that at its peak, an $8,000 stake in Shiba Inu would have turned into $5.7 billion in just over a year, for example.
But with over 6,000 cryptos out there…
I can tell you that most of these tokens are completely worthless.
In fact, I predict 95% will vanish at some point.
But if you know what to look for…
As I'll show you in just a moment…
The profit potential can be enormous.
Like when I said Bitcoin would be the future back in 2013 at $61 per coin…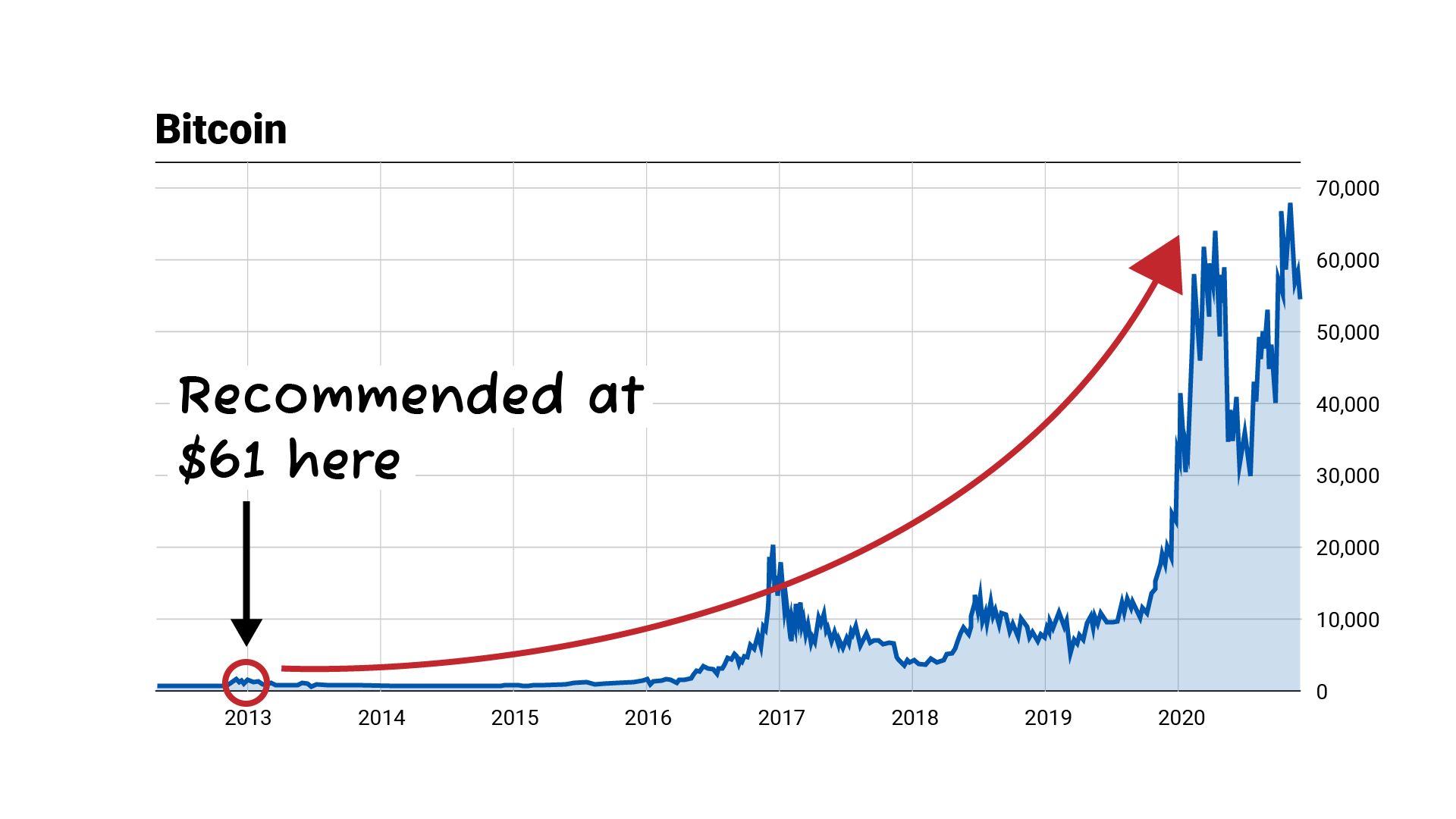 Which subsequently shot up over 103,533% in the following years…
Enough to turn a small $1,000 investment into $1,035,330.
Needless to say…
Had my followers acted on my prediction…
They'd most likely be sitting on a retirement nest egg by now.
And while no investment is ever guaranteed…
Bitcoin is just the start of the crypto revolution…
And That's Why I Want To Help You
Start Your Crypto Journey, Today!
As I mentioned, my name is James Altucher…
I'm one of the earliest adopters in the world to Bitcoin.
And I have amassed hundreds of thousands of followers thanks to my uncanny ideas regarding entrepreneurship, cryptocurrency, investing, and life philosophy.
In fact, all the way back in 2013 I created what might be the first ever online Bitcoin store…
Where I pre-sold my now best-selling book Choose Yourself exclusively in Bitcoin.
It seemed like a crazy idea at the time. Almost nobody knew what Bitcoin was…
CNBC even invited me on TV to talk about it.
Now, the anchor who interviewed me seemed skeptical about cryptocurrencies…
So I decided to stand up for Bitcoin.
You can see what I had to say to him in the clip below…
My point is, while I was on TV saying Bitcoin was the future at $61…
CNBC was saying the complete opposite.
And when I said at least one South American country's currency is likely to fail soon…
And that there would be mass adoption of Bitcoin amongst the populace…
Articles sprung up across the internet, calling me the face of the Bitcoin Bubble.
Yet 4 years later…

Bitcoin has become legal tender in South American countries, just like I said it would.
And that adoption is only getting bigger from here…
So if you aren't already making a killing in cryptos, it's not your fault.
The media has simply brainwashed people into thinking it's a scam…
But While Everyday Folks Are Sitting Out,
Insiders Are Quietly Going All In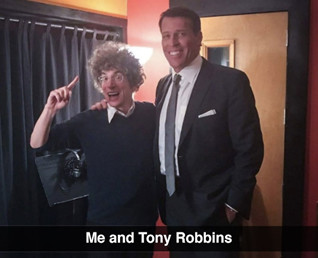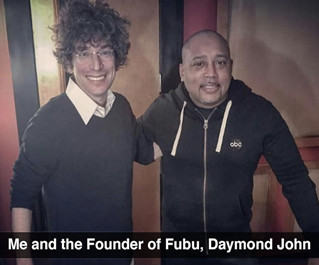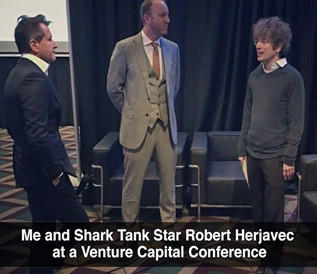 How do I know that?
Because I'm good friends with many of these insiders.
You see, over my career I've built 20+ businesses and run an elite hedge fund…
And along the way, I've made connections with everyone from Peter Thiel, the billionaire founder of PayPal and early investor in Facebook…
… to Mark Cuban, the star of Shark Tank and billionaire owner of the Dallas Mavericks.
I'm also on a first-name basis with nearly every big hedge fund manager in Manhattan…
As well as almost every major venture capital firm in Silicon Valley.
And thanks to my insider status, I know that they're all planning to bet big on crypto…
Just look at this new headline Forbes put out a few days ago!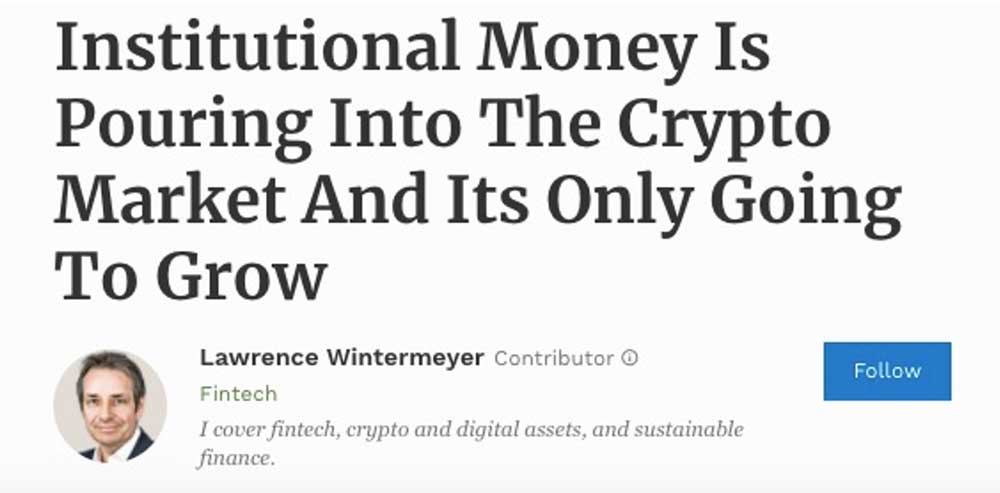 When you think about it, it's easy to see why everyone is rushing into crypto…
Just look at the dollar's rapid decline in recent years: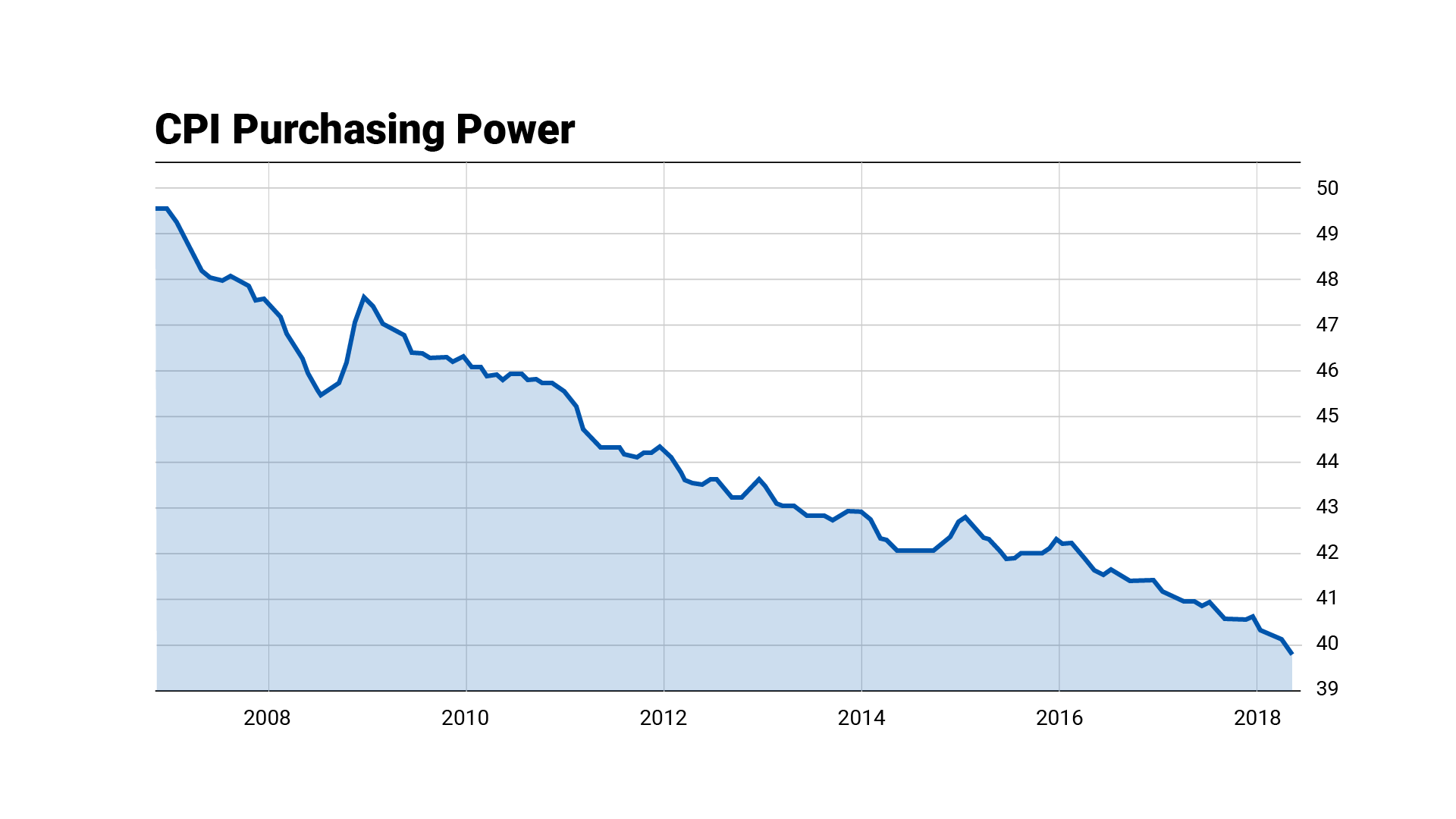 And it's only going to get worse…
CNBC warns that 23% of all dollars ever printed were printed in 2020 alone.
More and more people are losing faith in our currency, and I believe crypto is the #1 way to sidestep a crash in the dollar…
Even gold can't keep up. Here's how Bitcoin has performed versus gold: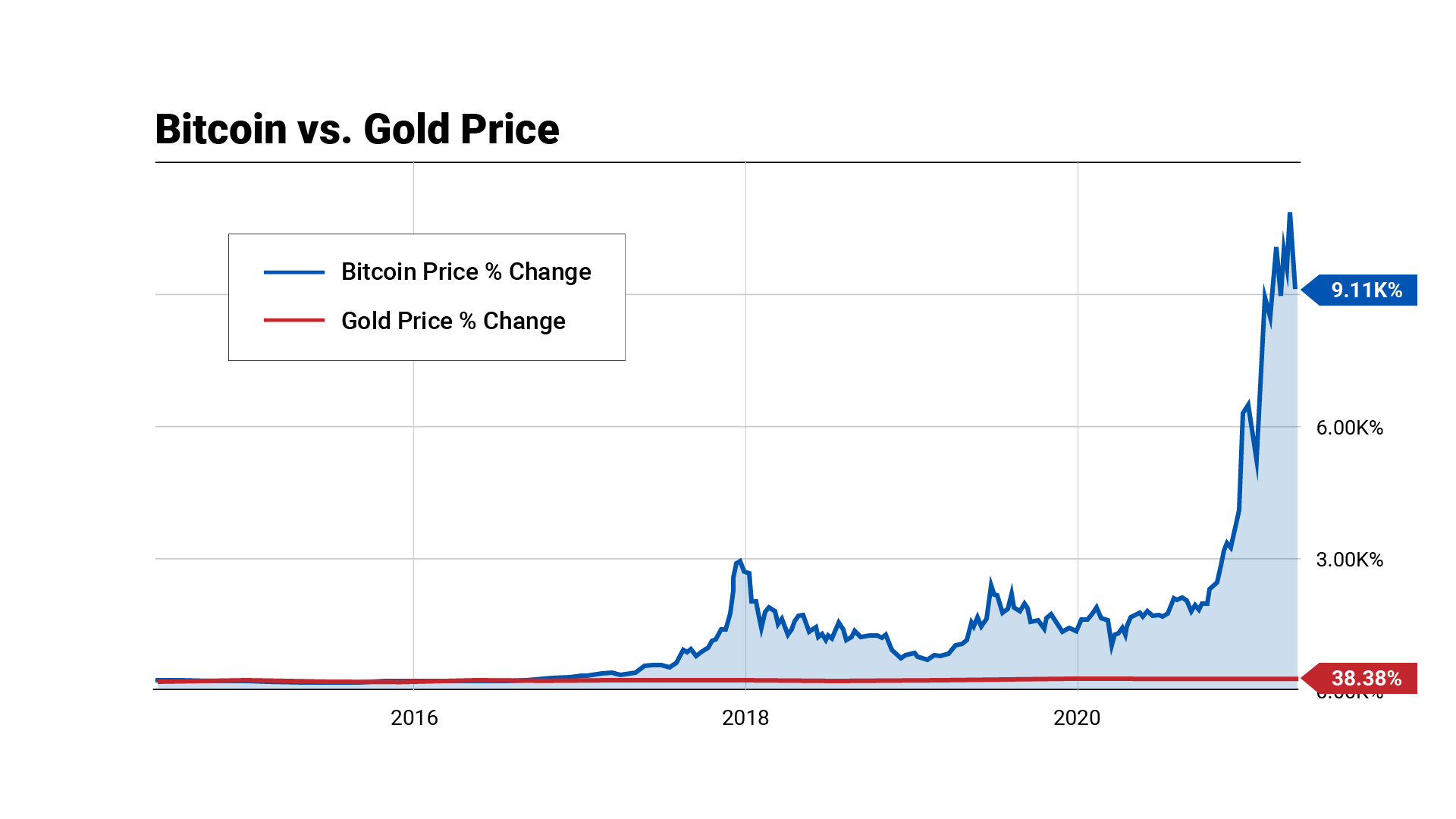 While gold is flat, cryptocurrencies are exploding!
No wonder everyone is rushing to adopt it right now.
From top hedge funds and venture capitalists…
To big companies like Tesla and PayPal…
Even entire countries have started accepting Bitcoin.
But while the "smart money" is piling into crypto, millions of everyday Americans are missing out…
Regular folks aren't participating simply because they don't know how to get started or which cryptos to buy.
And I don't think that's fair…
Because historians will look back on the invention of cryptocurrency and blockchain technology as a transformative moment…
It's going to completely change our financial system, the economy, and even the entire world.
In fact, Forbes just released this shocking headline: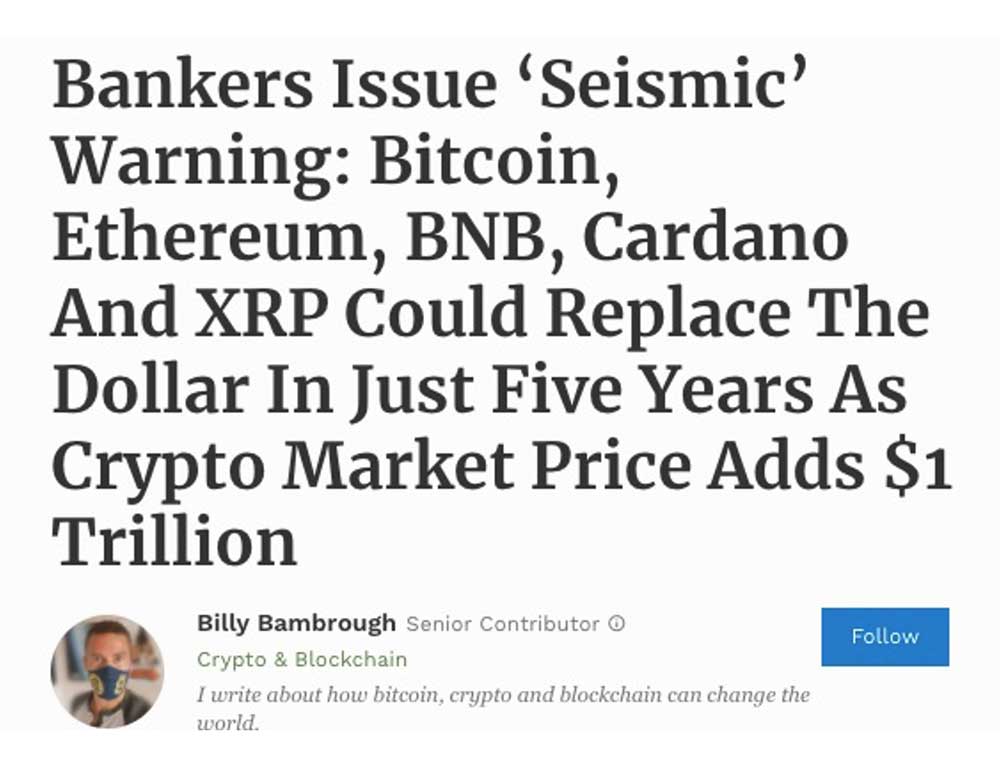 We're all lucky that this happening in our lifetime so we can capitalize on it…
But once more and more people start using crypto, your chance at the biggest early gains will be gone.
Which is why I want to send you The Big Book of Crypto today…
Because it shows you exactly how to get started with cryptocurrencies.
For example, you'll learn…
A little-known "glitch" in the crypto markets that could hand you daily profits. Most people don't know this, but crypto has a major glitch: smaller crypto exchanges often take a while to update prices. And many times, cryptos can be trading much cheaper on one exchange compared to another. This creates the perfect arbitrage opportunity. I'll show you how to take advantage for the chance at daily income on page 105 of this book.
Back In 2013, I told CNBC viewers Bitcoin was the future when it was trading at just $61… But today I'm putting out my most urgent buy recommendation to date. In fact, I believe that there is a single coin destined to take over Bitcoin as the #1 cryptocurrency. It's extremely easy to buy, and the profit potential is enormous. Get all of the details on page 54… And see how you can take advantage of what I call "the next Bitcoin."
How one of my top analysts net over $330,000 from the $2.5 billion NFT boom of 2021… And how you can use this new and exciting market to your own advantage. Starting from a small purchase of $200 back in 2016, my lead crypto analyst purchased a 'Rare Pepe Nakamoto' NFT as an experiment. Needless to say, the value EXPLODED and he was able to recently sell for 111 Ethereum (over $330,000 at the time he sold). You'll learn all of the details about this exploding industry and marketplace, and how to profit. (Flip to page 125.)
Plus so much more…
And don't worry…
Because Many Of These Legitimate Cryptos
Still Trade For Just Pennies, It's NOT
Too Late For Big Profits!
You see…
While the media tends to focus on Bitcoin…
The blockchain technology that is the basis for cryptocurrencies has undergone a massive transformation over the past few years.
And because of that, there are a few tiny cryptos that are faster, more eco-friendly, and backed by some of the smartest people in the world…
Making them the prime candidates to take over as top cryptocurrencies.
And because many of them are still so cheap… You can get started with as little as $100.
And if you know the right moves to make, you could turn that small stake into incredible gains in a matter of months.
Solana is a good example of what's possible… It's known for being an alternative to Ethereum.
Back in the beginning of 2021, it traded for just $1.84.
Today it's soared to over $235!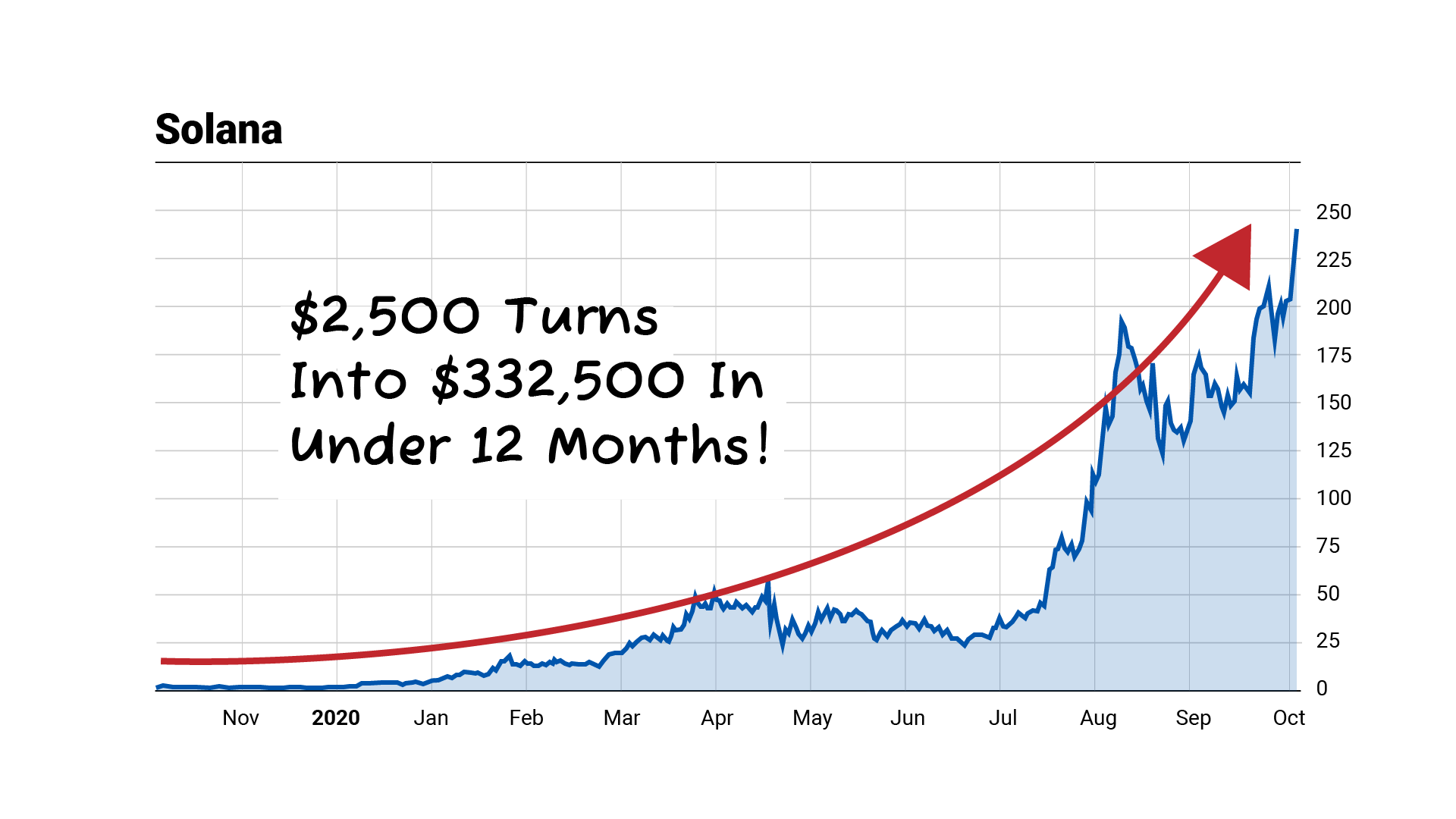 That's a gain of over 13,300% – in a single year.
Enough to turn a $2,500 investment into $332,500!
Isn't that incredible?
Take it from someone who knows…
I've been investing for decades…
And I've never seen these types of moves before…
And Solana is just one of many cryptos that are taking off right now…
Case in point, look at the crypto called Fantom…
A $2,500 investment back in early 2021 would be worth $397,500 today!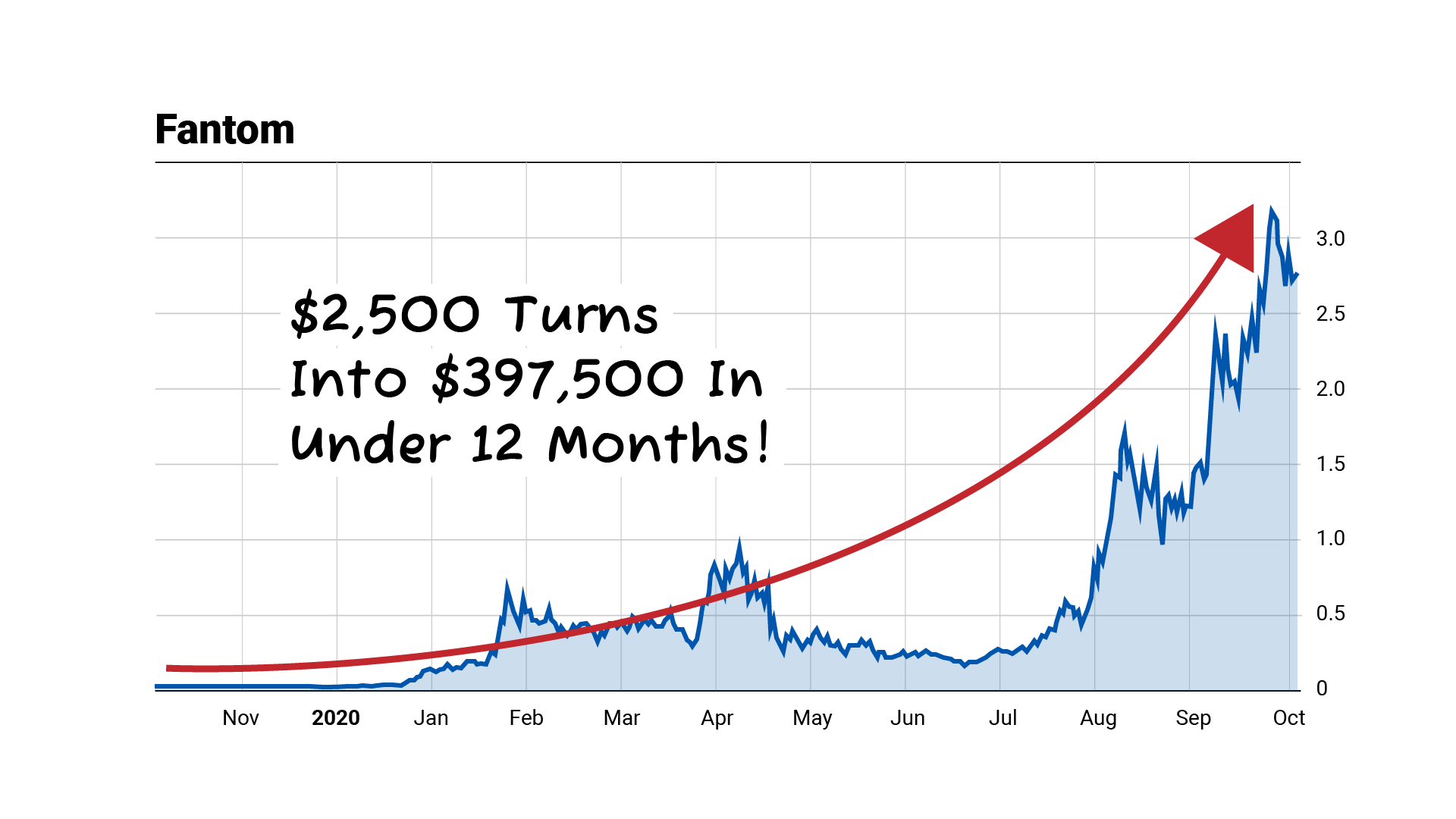 Imagine making nearly $400,000 from a single trade…
How would that money change your life?
Or look at the cryptocurrency called Axie Infinity.
There's a good chance you've never heard of it before…
But had an investor put in $2,500 at the beginning of 2021, they'd be sitting on a $562,500 fortune right now.
That's because it's rocketed up 22,400% in under a year.
Take a look…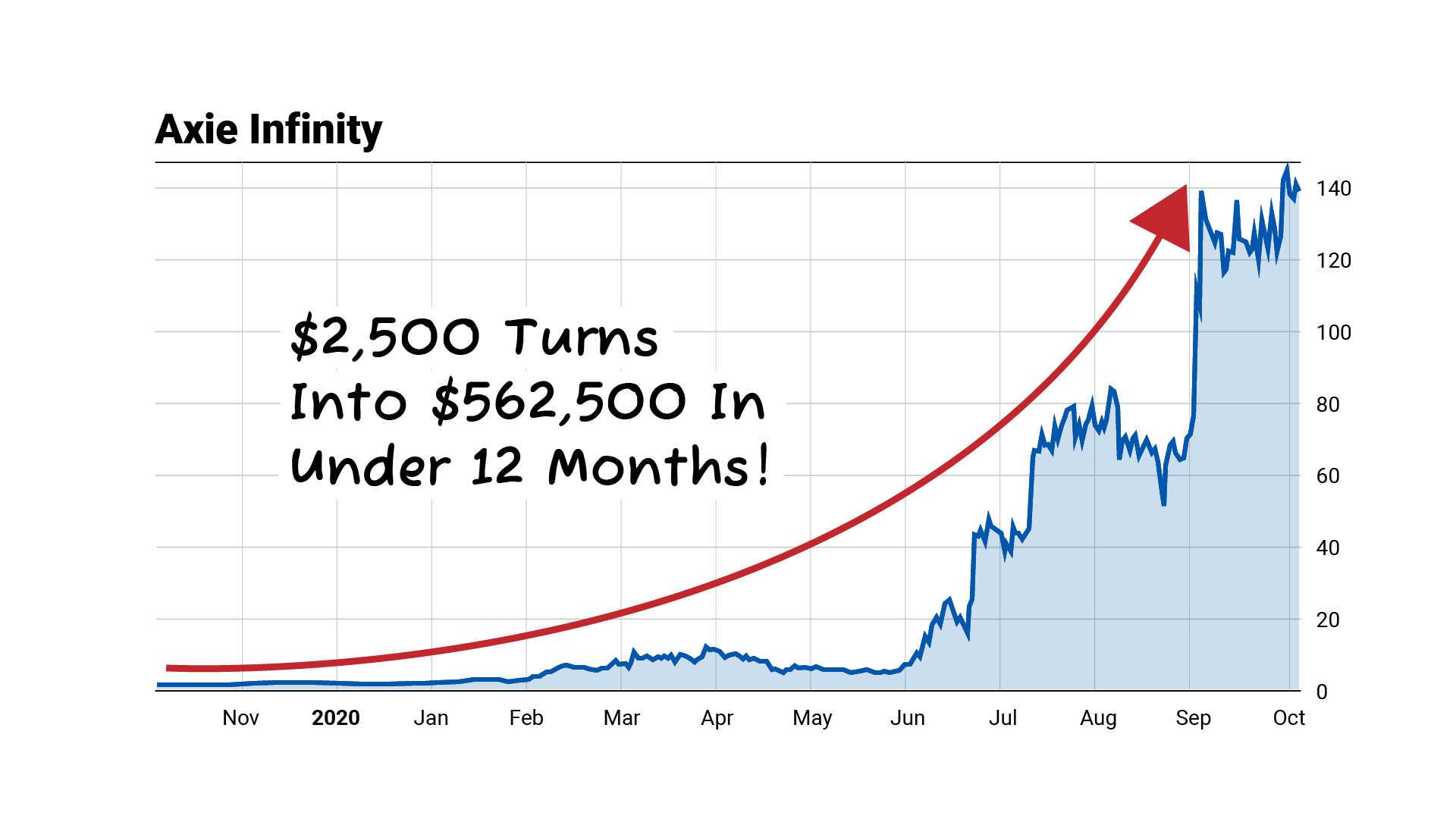 Just imagine how that kind of windfall would change your life.
Of course, not every example is a winner or goes this high… and cryptocurrencies are risky and volatile, so you should never invest more than you can afford to lose.
But that's what makes this so potentially explosive.
Crypto could be your chance to turn as little as $100 into incredible profits.
So how can you find cryptos like this before they explode?
That's exactly what you'll find inside my brand-new book.
In The Big Book Of Crypto, I'll Show You
Exactly What To Do To Get Started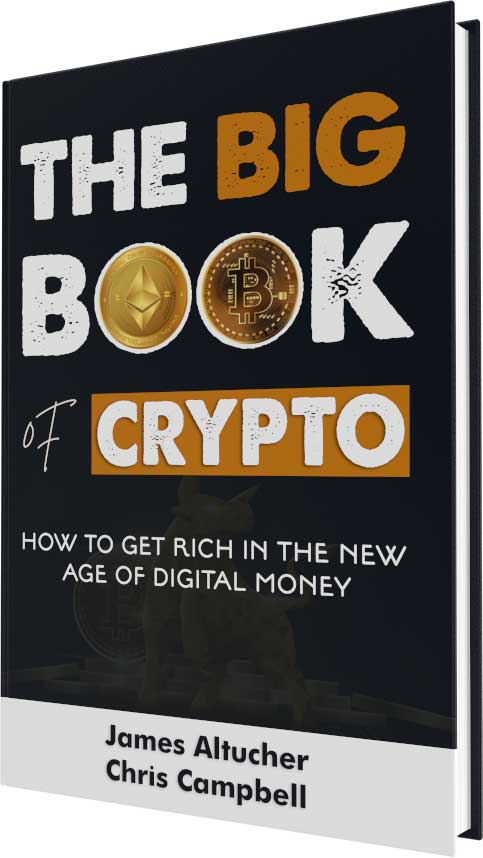 In just a moment you'll have the chance to let me know exactly where to send your book.
But before I tell you how to claim your book, let me give you a quick glance inside.
You'll find:
How a 14-year-old from Texas makes up to $32,000 per month with crypto. Yahoo Finance reports that a 14-year-old in Dallas is using this little-known crypto strategy to make up to $32,000 a month… right from home. And while they do put in a few thousand dollars to implement this strategy each month, they're doing it without buying and selling cryptocurrency like a trader would. If a child can do that, imagine how much you could have the chance to make. Flip to page 207 of your free book to see how it works.
The 60 Second Bitcoin Challenge. No Bitcoin yet? Not a problem. If you're interested, I virtually guarantee we can show you how to have your first crypto investment settled in 60 seconds or less, from an app that's probably already on your phone! Go to page 92 and see how easy this challenge is yourself. Ready the stopwatch… And GO!
STOP! Don't buy any Ethereum until you see my warning on page 55. I've already told you how I believe Ethereum is going to hit $100,000 per token by 2023. But despite that, before you even think about buying any, you must see my warning on page 55. You likely won't hear about this anywhere else but a major change is coming in the next few weeks that could have a big impact on Ethereum's price. Please make sure you buy your Ethereum the proper way, or else!
How to invest in Bitcoin at a discount. Why pay full price for Bitcoin like everyone else when there's a little-known way to buy it at a discount of 5%, 10%, even 15% or more? It's perfectly legal, but once this "loophole" goes mainstream it could be too late. Page 205 shows you how. As you read this, the "loophole" is still practical, but you must hurry.
How A $55 Amazon Purchase Could Save You Thousands (HINT: It's NOT A Wallet). You've probably heard about crypto hacks in the news before. While rare, they can happen… and it's smart to take precautions. On page 101 you'll see how a simple $55 Amazon purchase could make your crypto unhackable. It has nothing to do with a wallet or anything you've likely seen before.
How To Buy Bitcoin In Your Retirement Account. Most people don't know this, but you can purchase Bitcoin directly in your IRA or 401(k). On page 199, I show how a small percentage of your account in crypto could help create a portfolio strong enough to withstand ANY geopolitical shocks and could lead to tax benefitted gains for years. See page 199.
FOR ADVANCED BITCOIN ENTHUSIASTS: How to leverage your Bitcoin gains by a factor of 20X. Many enthusiasts are unaware of this US regulated industry that has allowed some folks to increase their Bitcoin leverage by 20X. This is one of the best ways to 'swing trade' Bitcoin prices in the short/medium term if you are willing to take on more risk for the chance at far more reward. Page 216.
Get Paid FREE Crypto To Browse The Web! If you're like most people, you probably use the internet daily. But did you know you can collect free crypto by doing so? Whether it's checking your email, looking for a recipe, or watching Netflix, you can get free crypto by doing this one simple task. There's no reason not to take advantage of this. All you'll have to do is follow the instructions on page 113.
How to collect up to $445 per month in income, targeting publicly traded crypto companies. This income method is a perfect way to help supplement your salary or Social Security, as folks get paid by targeting some of the best publicly traded crypto companies on earth! Once you try this out… You'll never turn back! To make this work, you'll need a $5,000 portfolio to get started and options approval. See page 226 for details.
Get FREE Netflix, Amazon Prime, Spotify, Access To Airport Lounges & MORE Exclusive Benefits. You could be entitled to all of this and more. Page 112 shows you how to take advantage.
Visit These Websites For FREE Daily Bitcoin: If you have time to spare, just visit the little-known websites on page 113 and discover how to claim FREE Bitcoin every day.
And that's just a few of the things you're about to discover.
Of course, not every strategy will be right for everyone and all investing carries risk.
That's why I encourage you to take the time to find out which ones are right for you and your goals.
The bottom line is that it's not too late to get into crypto.
In fact, I believe the opportunity in crypto is still just getting started…
And if you move quickly, you can still get in early.
That's because I estimate only about 2% of big institutions like big banks or hedge funds own any crypto right now.
But I can tell you firsthand that's quickly changing…
In fact, I predict almost all of them are preparing to make huge investments into crypto in the next few weeks and months…
I know that because I've been in meetings with many of them.
And they're not alone. Many major companies have plans to get involved too…
Just the other day, for example, Amazon listed the following job posting:
In other words, is Amazon planning to start accepting crypto?
It seems almost certain.
And needless to say…
Once this happens, and all of this big money gets involved…
I wouldn't be surprised to see most cryptos trading many times higher than they are now.
Which is why I'm making my new book The Big Book of Crypto available today…
Because if you're not in soon, you'll miss your best chance at the biggest profits.
There's No Time To Waste…
NOW Is The Time To Get Into Crypto
If you don't jump in now, you'll kick yourself over the next few months…
All signs indicate to me that most cryptos are poised to explode much higher.
In fact, it's already happening…
And every day you sit out, someone else is getting rich.
In just a month, Curve is up 123%…
Harmony, an Ethereum alternative, rose over 271%…
And the privacy-focused crypto called Secret has soared over 389%…
When was the last time you doubled, tripled, even quadrupled your money within a month?
If you're like most people, probably never.
But it happens all the time with cryptocurrencies.
Now, not every crypto will be a winner or go as high as these ones did.
Timing plays a crucial role and you have to be able to tell a good opportunity from all the hype.
That's exactly where my book can help you…
But You Won't Find This Book On Amazon
Or At Your Local Bookstore
I've written over 18 books in my career, including a number of popular best-sellers…
One book I wrote was even dubbed "one of the 12 best business books of all time."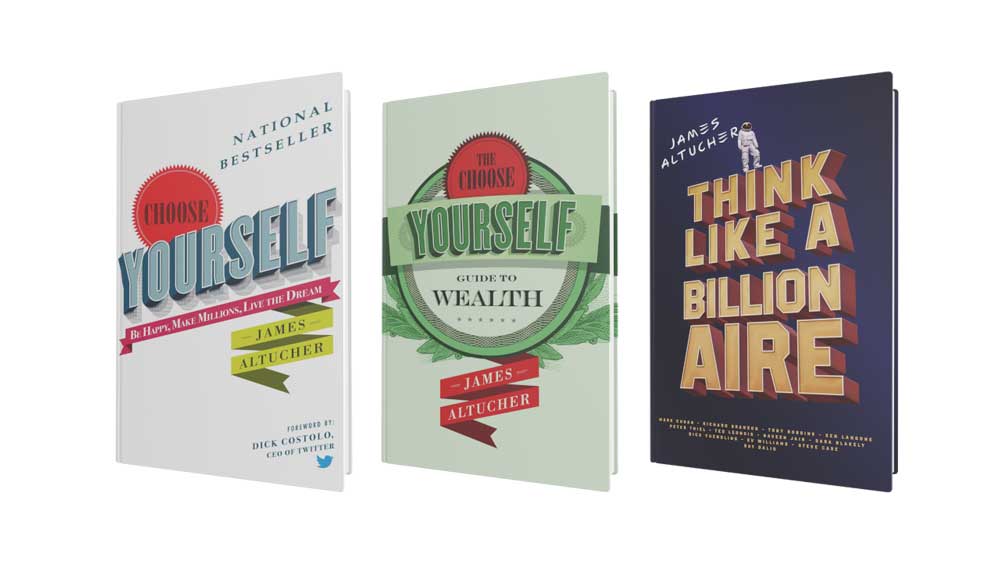 But unlike my previous books, you won't find The Big Book of Crypto on Amazon or in bookstores…
In fact, you won't find it for sale anywhere.
Instead, for a limited time, I'm releasing it exclusively through this webpage.
That's because I know crypto is the single biggest financial event of our lifetime…
As billionaire Tim Draper says of it, it's "bigger than the Industrial Revolution."
And I'm on a mission to help as many Americans as I can to prepare…
Because as you saw, only about 10% of Americans own crypto…
In other words, 90% of people will miss out on what could be the greatest once-in-a-generation opportunity that we'll ever see.
That's why I want to get my book to you ASAP.
All I ask in return is that you take a risk-free trial to my monthly research advisory called Altucher's Investment Network.
Altucher's Investment Network is where I share my best insights every month…
From cryptocurrencies set to explode for tremendous profits…
To hot new stock market sectors like self-driving cars, artificial intelligence, and drone technology…
To easy "side hustle" ideas you can use to make a substantial income, part time, from home…
And more.
Because by tapping into my vast network of high-level contacts, you'll be at the forefront of some of the biggest money-making opportunities in the world.
By agreeing to give this a risk-free try today, you'll not only get my brand-new book on cryptocurrency…
But you'll get access to all of my best ideas each and every month.
More on that in just a moment.
First, let me quickly show you why I created Altucher's Investment Network…
Join My Tribe, Get Your Book Today!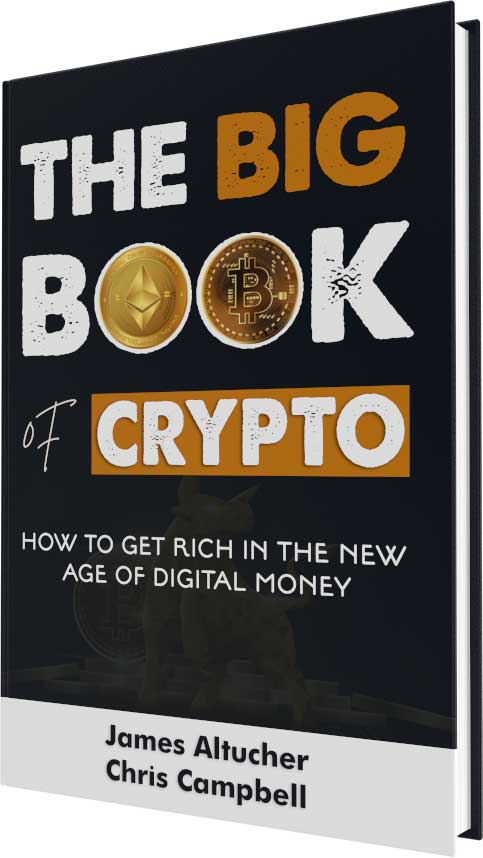 To show you why I'm doing this, let me quickly share a personal story with you…
Back in the late 90s, I started a web design company called Reset Inc.
I started with nothing and built the business with my bare hands until I was working with multimillion dollar clients like HBO, Interscope, Warner Brothers, and more.
I loved the business but when I received an offer to sell it for $15 million, it was impossible to refuse.
What happened next may sound hard to believe…
But within a few months, I was down to $143 in my bank account.
I had to eat frozen waffles every night for dinner because I couldn't afford anything else.
I'm telling you my story to make a point: I know what it's like to be broke and desperate.
If I wanted to, I'd be able to sell my research to big banks and hedge funds for thousands of dollars…
But that's not what drives me…
I'm on a mission to help regular Americans like you.
That's my goal with Altucher's Investment Network: to show you how to make money.
And that's why I publish this very special monthly research advisory.
So today, I'm inviting you to try a 100% RISK-FREE trial membership to my Investment Network.
You Heard That Right! Your Next
6 Months Are 100% Risk FREE.
For the next six months, I'd like you to evaluate Altucher's Investment Network so you can take your time in deciding if it's right for you.
The publishing price for my monthly research advisory is $299 a year — less than 82 cents a day.
But if you take part in this limited-time offer, you won't pay anywhere near that price.
More on that in just a moment.
And if you decide my research is not for you, simply call our friendly customer care team based out of Maryland and we'll issue you a full refund. No questions asked. Remember, you have a full 6 months to decide.
Where else in the world can you try something for a full 6 months and get a complete refund if you don't like it?
But before I show you how to get started, I have an important announcement regarding The Big Book of Crypto…
Because I Only Have 490 Copies Available Today…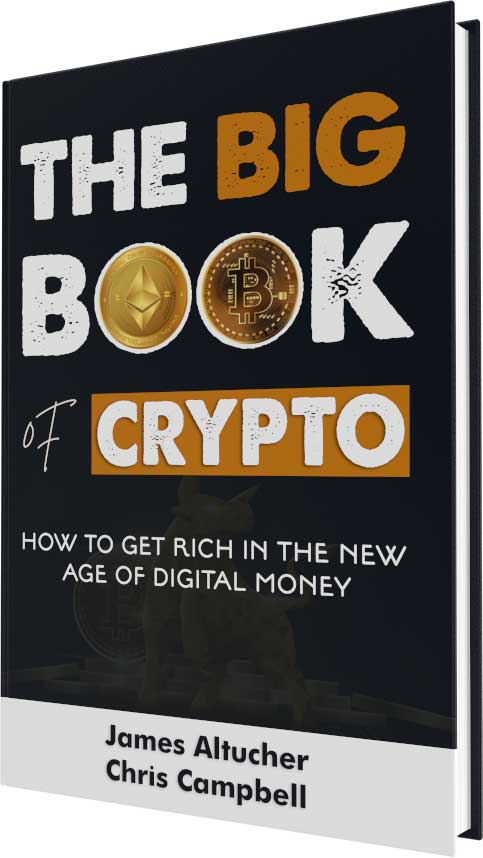 I'm sure it makes sense…
I wanted you to have an actual PHYSICAL copy of my book — not some digital download buried on your computer somewhere.
This is a book you'll want at your FINGERTIPS.
But physically printing books isn't cheap.
And this is the very first printing of my new book.
That's why I only have a limited number of copies available today.
Our books usually run out pretty quickly.
And when they're gone, they're gone.
But I want these special techniques to get into as many hands as possible.
Because The Big Book Of Crypto is full of strategies that have helped ordinary Americans become extremely successful…
It will tell you where the industry is headed to next…
And which little-known cryptos are set to soar next.
So please, I urge you to act quickly to secure your copy and start making the money you deserve.
But before you do so…
I must make one thing clear…
The Big Book Of Crypto Is NOT For Everyone
We're looking for a person that takes action and will make use of the strategies from our research.
Not someone who sits on idle hands…
Who will let their book gather dust on a shelf with other books that are on a 'to read list'…
Because even though Bitcoin already trades for tens of thousands of dollars…
There's still countless other cryptos that trade at dirt-cheap prices.
But if you don't act now…
You will NEVER see the results of what my book can show you!
Because crypto is constantly evolving and every second matters.
But look…
I'm not going to sit here and promise you'll make a million dollars with these strategies…
(Even though it's already happened to others)…
But you could very well earn a decent income…
Enough to be that 'side gig' you always wanted.
And you can step into the industry WITHOUT worrying about getting involved in some type of 'fad coin' that is set to implode at any minute.
You see, cryptocurrencies are risky – and nothing in the markets is ever guaranteed.
That's why these tactics I'll show you inside my book are so important.
Me and my team of researchers spend months looking into these strategies and coins…
And we vet EVERYTHING we publish.
So today is your chance to take advantage.
Here's what to do next…
Click on the red "Reserve Now" button below.
It will take you to a secure webpage where you can get started.
As soon as you get your book….
Crack open the pages and get ready for the trip of a lifetime…
RESERVE NOW!
And before you do that…
I wanted to make your decision to join Altucher's Investment Network and claim my book the easiest decision you will ever make…
So I am going to send you 3 FREE Bonuses that you won't find anywhere else!
FREE Bonus #1:


A Virtual Ticket To My Exclusive Crypto Masterclass Series,
Hosted LIVE In Person

When Bitcoin first started exploding in popularity, I decided to shoot a complete masterclass on the topic.

I gathered four people in a room who knew nothing about crypto… and got the cameras rolling.
These were everyday folks like you…
People who wanted to make money from cryptocurrencies…
But had no idea how to get started.
And in this series, I showed them everything I knew about making money from crypto…
I literally gave them my entire moneymaking formula…
The same formula I've personally used to make a fortune from crypto.
It was a huge success. And it helped a lot of people get up and running.
That's why in early 2022…
We are hosting another exclusive Crypto Mastermind and YOU are invited to attend!
At this mastermind we'll do a full rundown of the industry…
Where we see opportunity for 2022 and the years ahead…
Breakdowns of strategies…
Plus we'll do breakout sessions and more.
And while I won't be able to give any personalized investment advice, I can tell you that it's going to be a lot of fun…
And the insights you'll walk away with could help you make a fortune.
As soon as the details of this upcoming event are ready we'll send them to you.
And that's not all you'll get…
FREE Bonus #2:


Live Crypto Q&A Webinars Every Quarter

I'd hate to send you my book and leave you to figure everything else out on your own…

I want to help you every step of the way.

That's why, once, every quarter, I'll be hosting an exclusive Q&A session…

Where I'll answer reader's most pressing questions about crypto.

Where is the market headed…

What cryptos do I recommend buying now…

Important dates surrounding legislation, hard forks in certain coins…

And more.

Whatever questions you have, I'll attempt to answer them LIVE.

It will be like hosting you on my podcast.

I could probably sell this resource alone for thousands…

But it's yours free when you join Altucher's Investment Network today.

And that's not all…

Through my Investment Network, you won't just be gaining access to me…
FREE Bonus #3:


Hear Directly From Insiders With
My Monthly Crypto Mastermind

They say that when it comes to making money it's not what you know… it's who you know.

That's why this next bonus is so valuable.

When you accept this invitation today, you won't just be gaining access to all of my insights…

You'll also get access to my entire rolodex.

I'm on a first-name basis with nearly everyone in the crypto industry.

And starting today, I want to open up my connections to you.

Every month I'll send you an interview with a top crypto expert where we cover everything that's going on.

Imagine having direct access to the top minds of crypto every month…

Imagine discovering the best new cryptos long before everyone else…

Now imagine how much money you could make with this inside scoop.

That's exactly what I'll deliver to you with my new mastermind.

This benefit could be worth a fortune but you won't have to pay anything for it.

Instead, it's yours FREE as a reader of Altucher's Investment Network.

Let's quickly recap…
When You Agree To Give
Altucher's Investment Network
A Try, You'll Receive: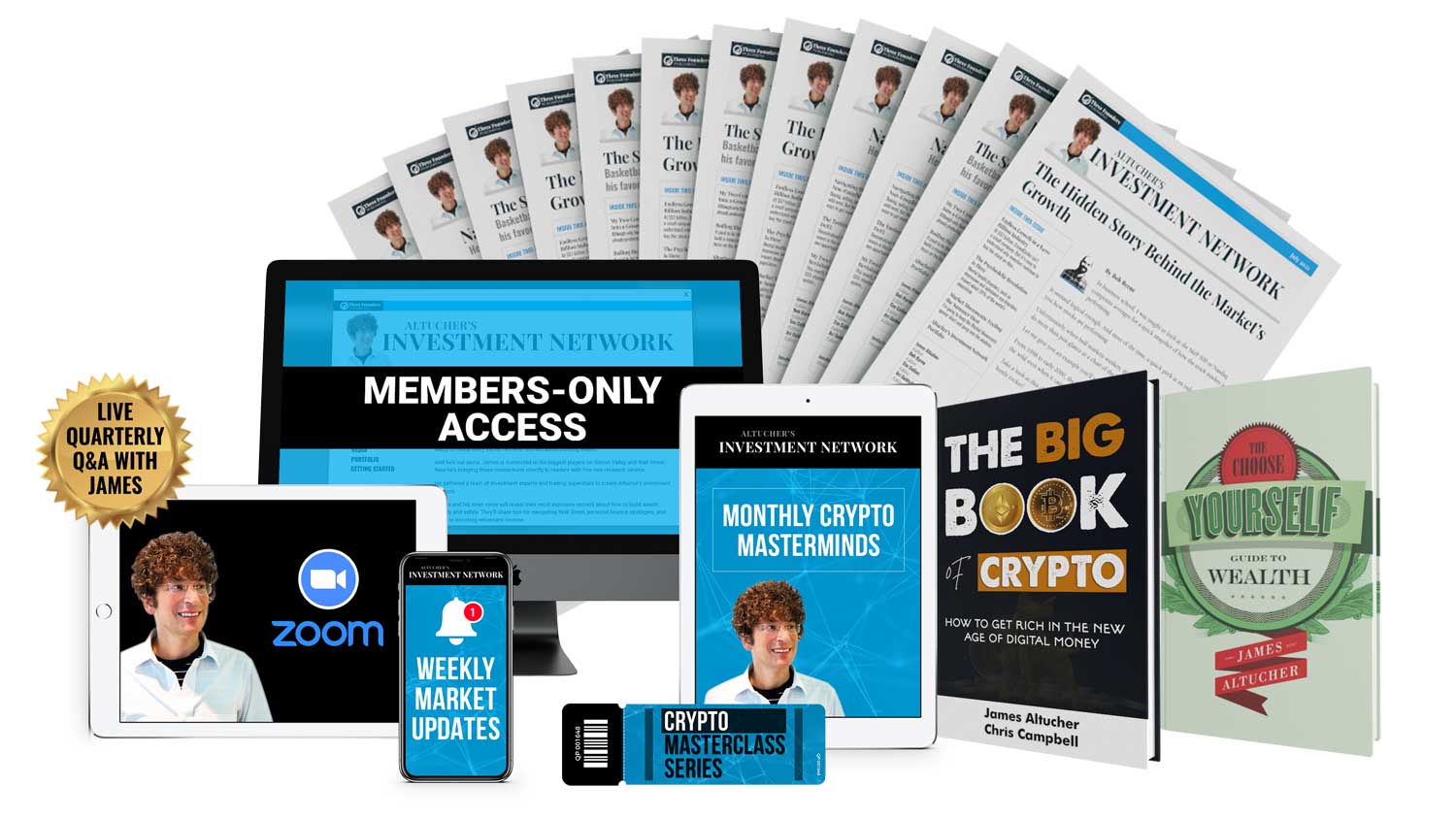 12 Issues of my special monthly research advisory, Altucher's Investment Network ($299 value)
A first edition of my latest book, The Big Book Of Crypto ($24.95 value)
BONUS #1: A ticket to my upcoming Crypto Masterclass Series ($499 value)
BONUS #2: Live Q&A via Zoom every quarter ($1,996 value)
BONUS #3: Access to my monthly Crypto Mastermind ($1,200 value)
Weekly Updates: As a member, you'll receive updates every single week on every important piece of news relating to the markets and any of the opportunities I may recommend in the Altucher's Investment Network model portfolio
Exclusive Members-Only Access: As soon as you sign up, you'll receive passwords to our exclusive, subscribers-only Altucher's Investment Network website, where you can take a look at ALL of my back issues and Special Reports, most of which contain opportunities you can take advantage of right away
That's a total of $4,018 in value.
And well worth it in my opinion.
I mean, if the coin mentioned on page 54 turns out to be the next Bitcoin, just think of what that would mean for your finances!
But today you can join Altucher's Investment Network for just $49.
Why so cheap?
Of course, I'm hoping you'll stay on as a lifelong subscriber and join the thousands of people like yourself who benefit from my insights every month.
Because the important part to remember is that the crypto market changes all the time…
And you'll need someone to help guide you through it.
And when you join me at Altucher's Investment Network…
I'll show you what cryptos to buy and when to buy them…
I'll also show you what to sell and when to sell it, so there's no guesswork.
And I'll even cover other big opportunities like self-driving cars, satellite technology, and more.
But if you don't like my research, that's fine. No hard feelings.
If you decide it's not for you for any reason during the first six months, no worries — just call our friendly Baltimore-based customer care staff (the number, 800-708-1020, is on all our publications and emails) and let us know.
You'll receive a full refund and never be charged another cent!
There's truly nothing to lose.
All you need to do is hit the button below to get started.
YES, James! I Want To Claim My Copy Of The Big Book Of Crypto…
Within minutes of joining you'll receive everything we discussed today: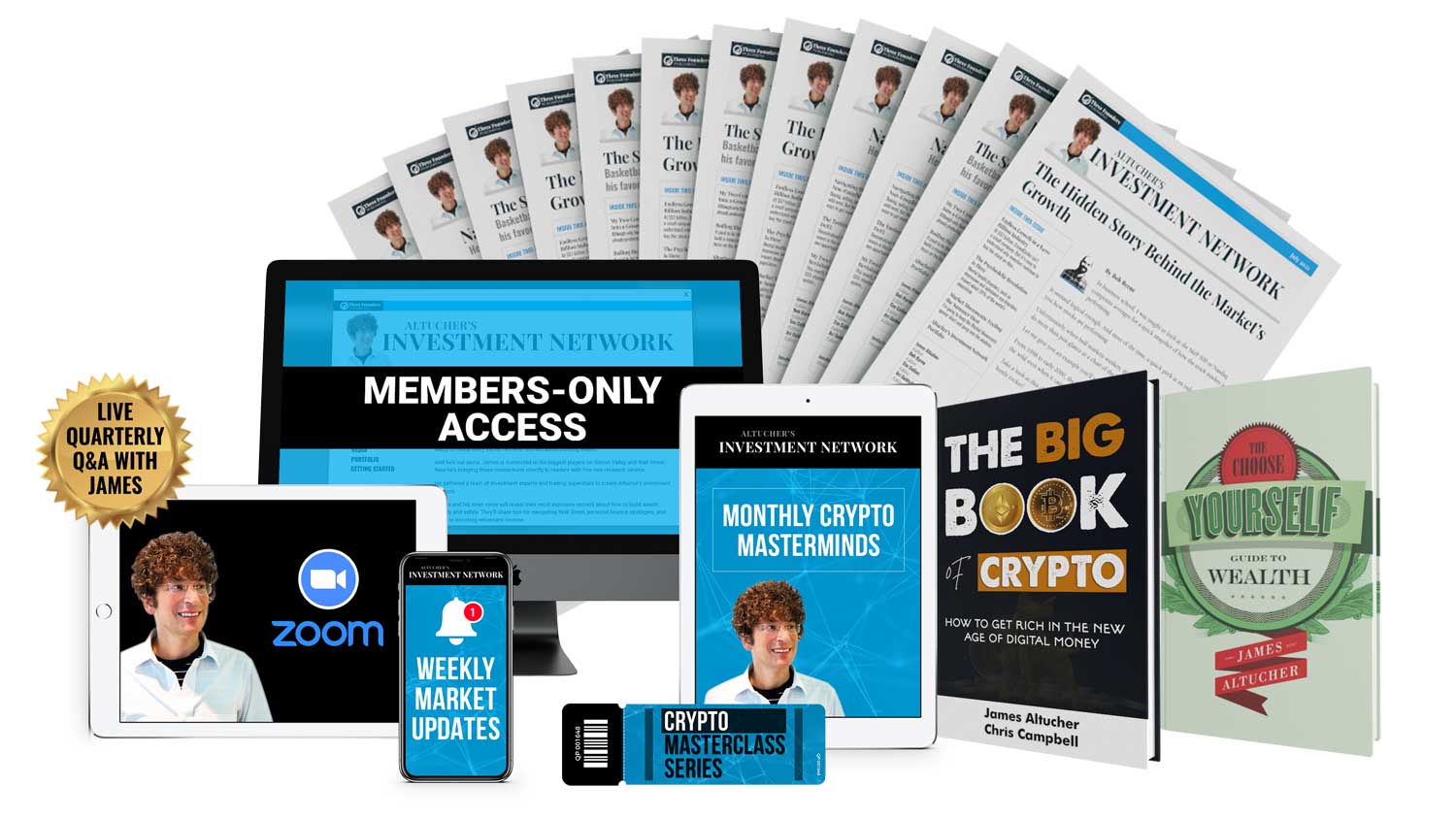 Get Started Today! Click Below To Get Started
Of course, I don't expect you to take my word for all of this…
Just listen to what my readers have to say about The Big Book of Crypto…
"Everyone must read The Big Book of Crypto!"
- Bryan A., 41, Santa Fe, NM
"Your book is amazing! I love how easy it is to understand a very complicated subject… bravo! So well written! A must read."
- John R., 62, Denver, CO
"The Big Book of Crypto has allowed me to jump ahead of the crypto mastermind group I have been in for over a year."
- Scott C., 71, Austin, TX
"A wonderful overview of the philosophy and nuts and bolts of the crypto world, and even though I am a fairly experienced crypto investor, I have definitely learned some things reading this. Brilliantly done, and I would definitely say a must-read for anyone just entering the crypto space!"
- Brad A., 34, Rochester, NY
And you can get started just moments from now, when you click below…
YES, James! I Want To Claim My Copy Of The Big Book Of Crypto…
The last crypto bull run was absolutely life-changing for many who took part.
As The New York Times reported of it, "everyone is getting hilariously rich and you're not."
Today a similar (but much bigger) situation is playing out…
And you have the chance to get in right now.
I'll show you exactly what you need to know to jump into this exciting market, where even a few hundred dollars could be life-changing.
Again, to claim your book and my complete crypto research, just click below.
Don't waste any time.
Thank you for giving me your time today, and I sincerely hope you decide to join me at Altucher's Investment Network.
Sincerely,



James Altucher
Founder, Altucher's Investment Network
November 2021
Click Here to Join Altucher's Investment Network, Today!
P.S. As one final bonus, to make your decision to get started even easier, I'll also include a free digital copy of my book The Choose Yourself Guide to Wealth when you respond below.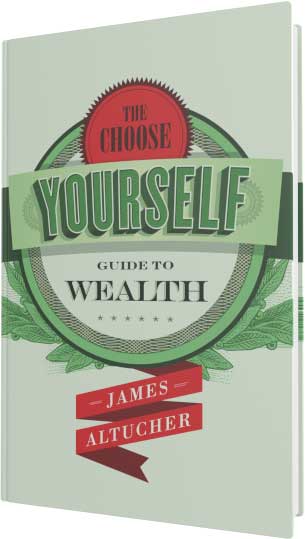 In the past, it's retailed for $24.95 on Amazon… but I'll send it to you absolutely FREE today.
This 279-page book is packed full of my best strategies you can use to grow your wealth and thrive in the new American economy.
For example, you'll discover…
*** How my friend makes a fortune on Amazon! ***
You'll be amazed at the secret one of my friends is using to make more than 99% of CEOs in the corporate world…
WITHOUT owning a company, sourcing products, or hiring employees. (See page 181.)
*** How to eliminate your debt worries in 30 seconds or less. ***
You'll discover a controversial method you can use to avoid paying your credit card or mortgage debt.
It has nothing to do with declaring bankruptcy, moving or hiding your assets… and it's 100% legal.
But I have to warn you… this strategy is NOT for everyone. (See page 218.)
*** How to use my "Idea Matrix" to create your own income… and never rely on corporate America or the government again! (Page 19) ***
And much, much more.
Don't waste any time. Just click below to claim immediate access to everything we've talked about today.
Click Here to Join Altucher's Investment Network, Today!
P.P.S. Bitcoin has rocketed to well over $60,000 – and many smaller cryptos have exploded for life-changing wealth.
Because of that, many have wondered how much longer this boom can go on.
I'm here to tell you: it's just getting started!
You see, as I mentioned I estimate only 2% of big institutions are in crypto right now.
But that's quickly changing.
Hedge funds and venture capitalists…
Companies like Amazon…
Even entire countries…
They all have major investments in the pipeline.
And once they get set up, billions (possibly even trillions) of dollars could flow into cryptos – helping push them even higher.
This really is the new gold rush… and I'd hate to see you miss out.
Just click below to get started now.
Click Here to Join Altucher's Investment Network, Today!